About Us - John Michelin And Son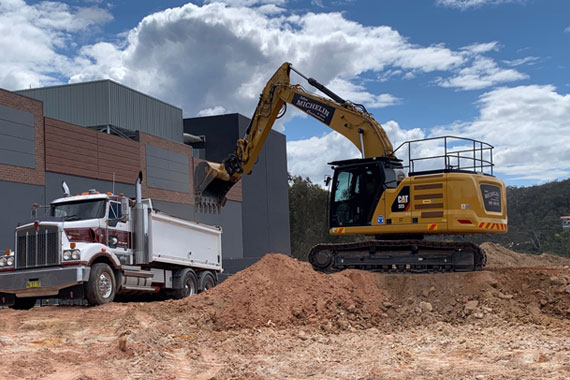 John Michelin & Son are a locally family owned and operated business servicing the South Coast of NSW and surrounds for over 60 years. We pride ourselves on delivering quality customer service offering a wide range of services to cater for all your civil landscaping needs.
We cover everything from machinery hire, truck hire, landscape supplies and stockfeed supplies.  We offer delivery of all our landscaping products or alternatively you can come to us.  Commercial, residential and local government projects – we deliver first class service to all our customers on the South Coast.
Bulk excavation
Residential, commercial, council & government projects
Construction of roads & driveways
Sub-division & site developments
Sewerage & water projects
Major concrete works (footings, roads, footpaths, bridges, retaining walls, tanks)
Pump stations & rising main pipelines
Construction of utility trenches/water mains/storm water systems
Concrete block walls
Masonry & boulder retaining walls
Electrical trenching and conduits
Culvert bases
Headwalls & wing walls
Concrete roads
Kerb & gutter
Precast & in-situ pits
Hotmix loads & 2 coat seal
Carparks
Project management
Demolition
No project too big or too small!
Backhoe
Borer
Grader
D6T Dozer
Excavators (14-25 tonnes)
Mini Excavators (4.5 & 5.5 tonnes)
Excavator Auger sizes: 300, 450, 600, 750 & 1 metre
Excavator Bucket sizes: 300, 450, 600, mud & GP bucket
Excavator Accessories: rock saw & rock hammer
Posi-Track
Skidsteer Bobcat
Bobcat accessories: broom, fork & 4 in 1 bucket
Roller
Front End Loader
Rigid Tippers
Truck & Dogs
Float
Sand

screened, riversand, bricky sand/mixed bricky sand, render sand, tiler sand

Soil

top soil, mushroom soil compost mix, straight mushroom

Metal

crusher/metal dust, aggregate 7, 10, 14, 20mm

Mulch

leaf mulch, pine bark, wood chips, hardwood fines, soft fall mulch

Cement powder & pre-mix
Pebbles/Stone

Pebbles 20 & 40mm, gold stone, white stone

Rock

Gabion, DGB rock, Road base

Premix

20kg cement bags, lime, quickset

Aggregate: 7, 10, 14, 20mm
Concrete blocks
Premixed concrete delivered
Stockfeed
Shadrock Estate - Earthwork and Landscape by Michelin & Son

Business Hours:
Monday – Friday : 7:00AM – 5:00PM
Saturday: 7:00AM – 2:00PM
Sunday: Closed
We service the entire Far South Coast, NSW